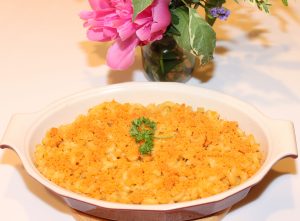 Preheat oven to 350 degrees and grease 9x13 baking dish.

Boil noodles according to package directions and drain.

Put cooked noodles in a large microwavable bowl. Add 3 tbs of butter and stir until melted.

Add ¼ cup milk and stir evenly.

Add 2 cups shredded cheddar cheese to noodles. Stir until melted. If cheese does not fully melt, microwave for a few minutes and stir. Add more cheese if desired.

Sprinkle and stir in ¼ tsp salt, 1/8 tsp black pepper, and 1/8 tsp garlic powder. Pour pasta into 9X13 baking dish.

Crush Chedz into bread crumbs consistency using a food processor or rolling pin.

Sprinkle Chedz crumbs evenly on top of pasta. Bake for 30 minutes. ENJOY!