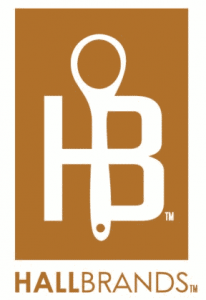 Our Story:
Hall Brands was founded by Susan Hall, a former program manager for Intel Corporation who became a stay at home mom after having her first son.  She yearned to have the best of both worlds – to stay at home raising their kids while enjoying a mentally challenging part-time career. To satisfy her creative urges and need to reengineer while seeking a new calling, she taught herself how to bake sweets and savory foods, trying to reproduce favorite snacks from the past as well as experimenting with new creations.
One of her experiments was developing a Southern-style cheese snack similar to the ones sent by her in-laws from North Carolina.  Of all of the creations she shared with friends and neighbors, her cheese snacks generated the most requests.  People who sampled them repeatedly called them "addicting" and continued to beg for them, including her husband Matt and two young sons.
Seeing Susan's love of and talent for baking, Matt encouraged Susan to start marketing this snack. Initially hesitant, Susan soon came around to the idea, and one day gave Matt an ultimatum: "We either have a third baby or start a new business!" 
Thus, in September of 2013, Chedz was born!  Soon after Hall Brands LLC was launched, Susan and Matt realized that starting a new business is a lot like having a baby – they worked 24/7, got very little sleep, encountered unexpected challenges, and experienced many high and low moments.  At the end of each exhausting day, whether there were tears, frustration, fear, feelings of defeat or outrageous laughter, they felt a sense of accomplishment and pride.  Similar to raising little ones, they discovered that there are always surprises lurking for every "baby" step they take.
Although growing her business has been much more than a part time job, it gives Susan the flexibility needed to raise her sons, and provides a mentally challenging career.  Hall Brands now provides flexible work opportunities to other stay-at-home parents in product demonstration and production roles.  They would like to expand on opportunities for other roles as the company grows.  Susan's new-found passion is to be a role model for young women, and to help encourage women entrepreneurs.  She has been mentoring and coaching women in many different industries.
Chedz is a flavorful, cheesy and wholesome snack produced with great care by Hall Brands for people of all ages, even babies!  Enjoy Chedz straight from the bag, or serve them with party mixes, salads, soups, dips, beer, wine, cocktails, coffee and many other accompaniments. Chedz can also be used for cooking for a delicious, low carb alternative to bread crumbs in recipes.  Check out our recipes on our website!  Smile….say CHEDZ!

Product Lines:
Keto, diabetic and gluten-free friendly!
Chedz™ Spicy is our signature brand which has a surprise "zing" finish in every bite.
Chedz™ Mild has all of the cheesy taste as our Spicy line but has a non-spicy finish.
Chedz™ Gluten Free flavors include Mild, Spicy, Peppercorn, Mexi, and Chia.
Try all our Chedz flavors for snacking and cooking!
•Protein
•Low Carb
•No Sugar
•Vitamin A
•Calcium
•Real Cheese
Our mission is to make premium and classic snacks with a twist that people fall in love with and that make people smile.  Smile…Say CHEDZ! 🙂