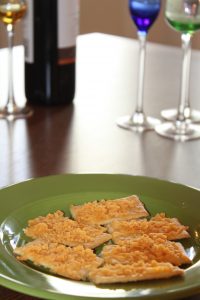 Try this quick and easy cracker appetizers for a nice lunch or dinner gathering.  Whip them up for the Super Bowl or any sports get together.  They will be a crowd pleaser!
Preheat oven to 300 degrees

Arrange crackers on a baking sheet lined with parchment paper

Sprinkle cheddar cheese evenly on each cracker

Optional: Add cayenne pepper to taste and/or cooked bacon bits

Bake in oven for about 5-10 minutes, watching to ensure that Chedz crumbs and crackers do not burn. ENJOY!