Here is a quick and easy no-bake appetizer for year round parties that require no measuring.  Just gather the 3 ingredients and voila — a beautiful sweet/savory finger food awaits your guests.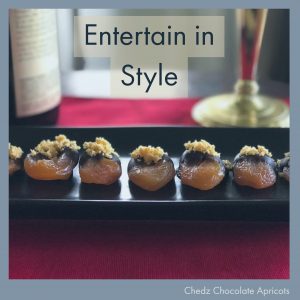 Line a baking pan with parchment paper

Crush Chedz into fine crumbs with a rolling pin, food processor or Magic Bullet

Melt chocolate of choice in the microwave or double boiler

Dip apricot in chocolate and sprinkle with Chedz crumbs. Repeat until completed. Let chocolate set in room temperature or put in the refridgerator. Serve and enjoy!