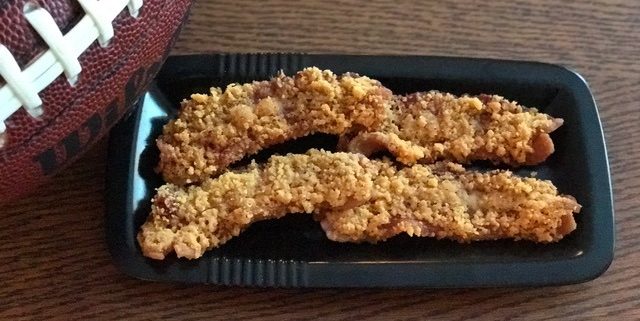 Here is another unique party appetizer idea that only requires two ingredients and no measuring!  It is great for the bacon and cheese lovers who want a lot of protein and very little carbs.  This appetizer would be great at a Super Bowl event or any game day party.
You can also use these bacon topped Chedz in cheeseburgers, salads and lots more!
There are two cooking options: Microwave or oven. If using an oven, preheat oven to 400 degrees.

Crush Chedz sticks into crumbs with a rolling pin, food processor, or Magic Bullet.

Line a baking pan with foil.

Put desired number of baking strips on the pan.

Pat Chedz crumbs onto each slice of bacon with a spoon and/or fingers firmly. The amount of Chedz crumbs on each slice of bacon is your preference; it can be a thin or thick amount. We used approximately 1 TBS for 2 slices of bacon.

Put pan in the oven and bake for approximately 15-20 minutes (watching carefully at 15 minutes to ensure that it does not burn). Take out to cool and crisp on the pan.

If using a microwave, line a microwaveable plate with 1-2 sheets of paper towel. Place about 4-5 slices of bacon on the plate. Pat Chedz crumbs on each strip. Add a paper towel on top of the bacon slices.

Microwave on High for about 6-8 minutes (microwave ovens vary so check it after 6 minutes to determine how much longer to microwave it to desired crispness). Take out and let the Chedz bacon crisp.