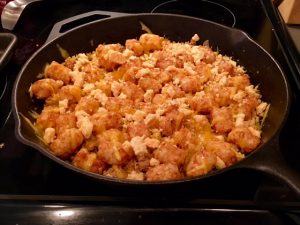 Bake 20-24 tater tots in the oven at 400 degrees for about 18-20 minutes.

Sautee onion in a skillet until cooked. Add ground beef or turkey and cook until done.

Add 1/2 cup taco seasoning and 1 cup of cheese to meat mixture and mix.

Crush Chedz into crumbs consistency with a rolling pin or food processor.

Add tater tots on top and sprinkle with remaining 1 cup of cheese. Sprinkle with Chedz crumbs. Bake for 15 minutes in the oven until cheese is fully melted. ENJOY!