We love slow cooker meals, especially when they involve Chedz.  Using Chedz crumbs in meat will give it a very tender texture and is extremely flavorful.  Here is a yummy comfort food meal that will warm hearts!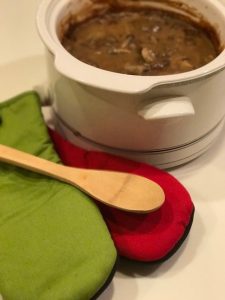 Crush Chedz crumbs finely using a rolling pin, food processor or Magic Bullet.

Slice onion in half moons and set aside.

In a large bowl, mix together the ground beef, onion soup mix, Chedz crumbs, and milk using your hands. Shape into 8-10 patties.

Heat the oil in a large skillet over medium-high heat. Dredge the patties in flour just to coat, and quickly brown on both sides in the hot skillet.

Place browned patties into the slow cooker stacking each patty like a pyramid.

In a medium bowl, mix together the cream of mushroom soups, au jus mix, and water. Pour over the meat.

Add the onions, dipping them to submerge in liquid.

Cook on the Low setting for 4 or 5 hours, until ground beef is well done. Occasionally stir the sauce.

About 60 minutes before cooked time, add the sliced mushrooms and stir to ensure that they are submerged in sauce.