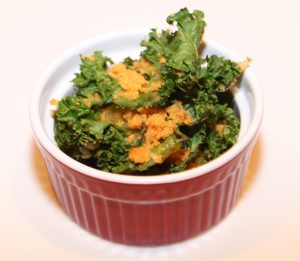 Preheat oven to 425 degrees F (220 degrees C). Spray 1 baking sheet with cooking spray.

Remove the stems and ribs from the kale, and shred the kale very thinly into chip like pieces. Spread the shredded kale onto the baking sheet, and sprinkle evenly with Cheddar cheese.

Crush Chedz finely; bread crumbs consistency.

Sprinkle Chedz crumbs evenly over kale pieces.

Bake the kale for 10-15 minutes, watching carefully to prevent burning, until the kale is crisp and the cheese has melted.