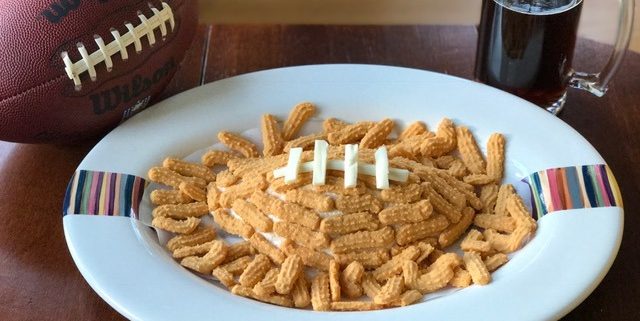 We discovered how easy it is to make a cheese football decorated with Chedz sticks.  This recipe uses the similar base recipe as the Mini Chedz Cheese Ball recipe on this sight.  Any cheese ball recipe will work.  Follow the instructions to decorate the football.  Putting the Chedz sticks on the cheese football was almost like completing a puzzle.  It was fun to find the right size sticks (Chedz sticks vary in sizes) to decorate the cheese ball.  Try it yourself!
Mix cream cheese, cheddar cheese, garlic powder, salt and Worcestershire sauce together in a bowl with an electric mixer until completely blended.

Place the cheese mixture in the refrigerator to harden to make it easier to roll up into balls. Refrigerate for 30 minutes to 1 hour.

Take the cheese mixture out of the refrigerator and place the cheese mixture onto a sheet of waxed paper or parchment paper and form it into the shape of a football.

Decorate the cheese football with the Chedz sticks (this is the fun part!) until cheese is fully covered.

To add "laces", take a slice of mozzarella cheese or any preferred white cheese (even a stick of string cheese will work) and cut it into thin slices. Cut one long slice for the center of the football and smaller slices for the laces. Place the long slice horizontally along the center of the football, then arrange the small slices horizontally on top.