This divine turkey chili recipe with Chedz is great after Thanksgiving leftovers, cold days and on game days.  You can also substitute chicken.  Chedz goes well crumbled on top of chilis and soups or add the sticks directly on top!  In either form, it makes chilis and soups more exciting to the palette!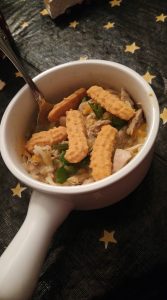 Cook onion and peppers in oil until soft, 5-10 minutes. Add garlic, chili powder, salt, cumin, coriander and oregano. Stir and cook for about 1 minute until fragrant.

If making with cooked turkey, go to the next step. If using uncooked chicken, add broth, chicken and beans to pot. Bring to a boil, then reduce to simmer. Simmer until chicken is cooked through (15-20 mins). Remove chicken to cool, then shred using 2 forks.

Add turkey (or chicken) to heated broth and stir in salsa verde, lime juice and cilantro. Heat through.

Right before serving, add Chedz crumbs or sticks on top and enjoy!