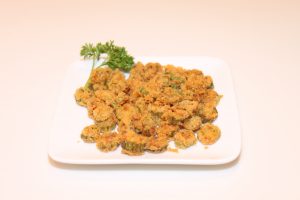 Wash Okra and pat with paper towel but not thoroughly dry as spices and Chedz crumbs need to stick to moisture.

Cut Okra ends and discard. Cut Okra into thin coins and put in bowl.

Add 1 tsp salt, ¼ tsp black pepper, and 1/8 garlic powder and toss in bowl.

Crush Chedz finely; bread crumbs consistency.

Add Chedz crumbs to okra mix and stir.

Heat 1-2 cups oil (depending on pan size; need enough to cover Okra pieces).

Add Okra to oil and fry until golden brown and crisp.

Add more salt, black pepper, or garlic powder to taste if desired.

*For healthier option, arrange the okra slices in one layer on a foil lined cookie sheet. Bake in the preheated oven for 10 to 15 minutes or until golden brown.