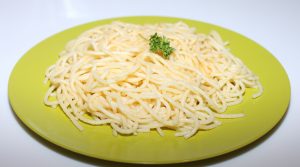 Bring a large pot of water to a boil. Add 2 tablespoons of salt and the pasta and cook according to package directions. Drain and add to a large pasta bowl.

Pour 1/3 cup of olive oil in a pan. Add a dash of salt. Add 6-8 garlic cloves. Simmer on low for about 20 minutes and watch carefully so garlic does not burn. Stir garlic periodically.

Crush Chedz to crumbs consistency using rolling pin or food processor.

Mince the fresh parsley if using.

Add crushed red pepper flakes to the olive oil.

After about 20 minutes, turn off burner and pour the olive oil over the pasta. You can leave the garlic slivers in the pan or choose to add it to the pasta.

Add Chedz crumbs and parsley (if using) and stir. Serve and enjoy!