Make this slow cooker chicken carnitas and add Chedz crumbs toppings to kick it up a cheesy notch for a Cinco de Mayo party or quiet family dinner.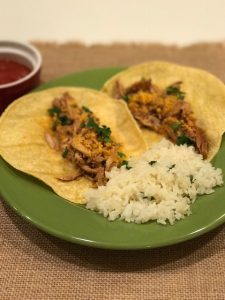 Add the first 9 ingredients in a slow cooker: chicken, broth, onion, garlic, chipotle, cumin, black pepper, chili powder, and salt. Add lime juice if preferred. Gently toss to combine.

Serve on tacos, burritos, salads, rice, etc.

Crush the Chedz sticks into fine crumbs using a rolling pin, Magic Bullet or food processor. Sprinkle to taste for an extra cheesy crunch.

Garnish with cilantro if preferred.
The chicken can be refrigerated in a sealed container for up to 3 days, or frozen in a sealed container for up to 3 months.