Hall Brands LLC is a 2016 grand prize winner for Comcast Innovations for Entrepreneurs (I4E) national contest.  I have been requested by Comcast Business Oregon to write a blog about my trip to Philadelphia to receive the prestigious award.  It is challenging to express in words the incredible experience we had and the emotions I felt, as the trip exceeded all expectations – it was definitely my "most amazing business trip ever."  As you read through this, play the song "Gonna Fly Now" in your head (this is the theme song from the movie Rocky), as the lyrics of this song "Flying high now" best describe how I felt during the entire trip.
Tuesday, August 16, 2016:
We (my husband/business partner Matt and I) touched down in Philadelphia late Tuesday evening and were greeted at the airport by a friendly driver.  He helped us fit our two huge boxes of product samples plus our luggage into his car while still keeping it comfortable for us, and drove us to The Logan Philadelphia, pointing out sights of Philadelphia along the way.  After checking in, we grabbed a quick dinner close by at Pete's Famous Pizza, which we very much enjoyed, as we are big fans of neighborhood diner-style restaurants.  We took in the scenes around Logan Square while walking to and from the restaurant, and fell in LOVE with Philadelphia that night.
Wednesday, August 17, 2016:
Running our respective businesses (my husband is a founding partner of a law firm) required us to work the majority of Wednesday, with only a short lunch break to try an authentic Philly cheesesteak at Logan Square Pizza and Grill.   The sandwiches did not disappoint, and disappeared quickly from our plates.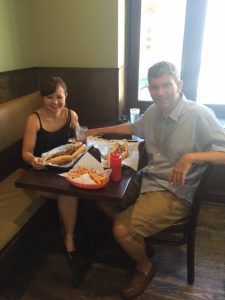 At 5:30 pm, we headed to The Library at The Logan Hotel for happy hour, where we met the 5 other grand prize winners and their guests, as well as the fantastic team from GMR and Comcast who planned this phenomenal experience for us.  Around 6:30 pm, we headed to The Barnes Foundation for the awards dinner.  At the museum, we had the opportunity to meet and mingle with some of the experts and take in the breathtaking exhibits.  It almost felt as though we were in a Paris gallery.  Sipping on premium wines, enjoying a divine dinner and having stimulating conversations made the evening perfect and dreamy in every way.
As I was walking up to accept my Comcast I4E award after a flattering and flawless introduction, I felt so humbled and honored to be receiving an award from such a respected company.  Many people have suggested for me to go on Shark Tank – while that may be something to aspire to, being a Comcast I4E grand prize winner is even more exciting in a unique way that only a few will ever get to experience.  Being an entrepreneur, I rarely ever get recognized for toiling away day after day.  Having a company as grand as Comcast recognize our efforts means the world to me.
Thursday, August 18, 2016:
This was the exciting day where we would be able to meet with top entrepreneurs and industry leaders to get expert advice in six key areas: Finance, Business Planning, Growth Strategies, Operations & Technology, Marketing, and Digital Presence.  The day started bright and early at 7:30 am for the walk to the Comcast Center, and didn't end until 9:00 pm.  The Comcast Center is an impressive building with spectacular views.  Immediately following a delicious breakfast (Comcast fed their winners very well), the keynote kicked the day off with a discussion of "Building the Right Team," which is a topic that has been on our minds for a very long time.
Following the keynote, there were breakout sessions throughout the day in which the 6 grand prize winners met with panels of the experts.  The grand prize winners had the opportunity to share some of their key learnings via video, which we understand will be released to help other entrepreneurs benefit from the expert advice we received.  We were absolutely "blown away" and "star struck" by all of the brilliant and highly successful experts and their personal achievements – it was surreal to be in the same room with them.  However, they were all very approachable, helpful, and listened carefully to us.  They provided valuable insights, tips and suggestions for actions that we had not considered, and generously offered to follow up after the event to help us move our company forward.   Every one of the experts showed a genuine interest in helping our business become more successful.  By the close of the meetings, we felt as though we received an immense amount of quality guidance to help take our business to the next level.  Here are some key takeaways from meeting with the experts:
Seek to build teams with members who bring diverse and relevant skills to the table and who share a common vision
Always think about whether our company is targeting its most promising markets
Develop backup plans for all key business functions
Manage cash outlays via specialized financing solutions for capital expenditures and investments
Seek industry partners that can help us grow for their own strategic reasons
Carefully and deliberately align brand messaging and product offerings
Simultaneously target distributors (push our product out) and customers (pull our product through) with coordinated marketing plans
Focus on the most important marketing channels for our specific business – there is no "one size fits all" solution.
Consider branding strategy and product mix to be a key component in planning for growth
And here are just a few of the many pieces of wisdom that the experts shared with us:
"Don't be a perfectionist to the point where you can't make money. Be willing to bend.  Leave your ego behind."
"Stay true to your brand."
"Be careful with how much equity you give to others early on – small businesses often give up too much."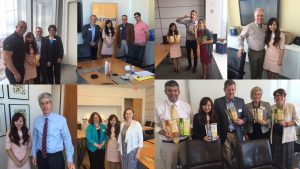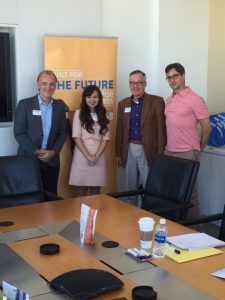 By 5pm, we had successfully made it through the expert sessions, and were treated to a ride on a traditional Philly trolley.  We were not sure where it was taking us, but were happy for the time to reflect on the day, chat with the other grand prize winners, and take in more sights.  Soon enough we arrived at the destination – the Philadelphia Museum of Art, where we were greeted with champagne!  The cold bubbly was refreshing in the intense summer heat as we toasted to our success at the top of the famous "Rocky Steps!"  Professional photos were taken of the winners and guests toasting to celebrate this amazing event.   At the time, I did not even think about the significance of this legendary spot, but later was glad to have seen this iconic landmark from the famous movie.
All too soon, we again boarded the trolley, and were transported to the Reading Terminal Market for a private dinner event.  It was another splendid evening of great drinks, food, desserts, music and company.  Although my mind was overwhelmed with so much advice yet to be sorted out, I was somehow able to unwind and enjoy the festivities.
At 9 pm, the trolley dropped us back at The Logan hotel, where we said our farewells.  I felt a huge sense of accomplishment, yet sadness swept over me knowing that we would be leaving this great city soon.  In addition, I had already started missing the experts and everyone else that had done so much to make the last couple of days so special.
Friday, August 19, 2016:
On Friday, we were able to be tourists, and walked all over town for hours taking pictures of the historic sites and beautiful classic architecture.  We also ate more delicious food.  We even tried scrapple!  It would have been nice to have an extra day (or week) in Philly, as we didn't even come close to hitting all of the landmarks on our list, but this just gives us a reason to return in the future.
In our minds, this experience has been personally and professionally the most valuable, priceless business trip that we have ever taken.  Everything was orchestrated perfectly and flawlessly.  It exceeded our expectations, and has been life changing for me personally and a game changer for our Hall Brands LLC business.  If we are able to grow Hall Brands LLC successfully, we will always credit Comcast as one of the companies that has helped get us there.  Comcast gave us the red-carpet treatment, and made us feel like absolute winners.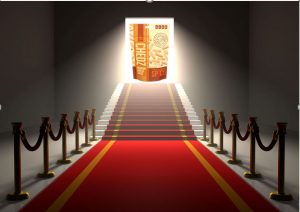 As we departed Philly, the Rocky theme replayed in my head with the lyrics, "Gonna fly, fly, fly."  Comcast gave us the tools to help spread our wings and fly toward higher grounds.  I now understand the significance of the champagne toast at the iconic Philadelphia Museum of Art where the famous "Rocky Steps" occurred.  It is the perfect location to toast to our victory as a 2016 Comcast I4E grand prize winner, one of our greatest achievements to date.  We hope that as we put some of the advice to practice and continue to stay in touch with the experts that we will get many more of these "Rocky" triumphant moments.  Thank you Comcast, and thanks to all of the experts and to the organizers behind the scenes – Hall Brands LLC will be forever grateful.
Monday, August 22, 2016 – Wednesday, August 31, 2016:
As soon as we landed in Portland, OR, reality hit and we were back in the trenches, working full force on our businesses.  This was even more difficult than usual, as we were in the throes of "Philly withdrawal" – we really missed the city and all the pampering.  Before we went on the trip, we had agreed that, even if the experts didn't keep in touch and the trip turned out to be just a trip, it would still be very special.  However, the remarkable thing is that the experts and other team members with whom we met are already (and proactively) taking actions to staying in touch, getting connected via LinkedIn and social media, and following up on their offers to help Hall Brands LLC with sales, marketing, networking and other strategic tasks.   Just one week after the event, we already see a true dedication on their part to follow through with their ideas and suggestions.  We are so impressed with this event – we still cannot believe how lucky we are.  Thanks again to everyone involved!  We hope to see everyone – the organizers, the experts and the other winners – sometime soon!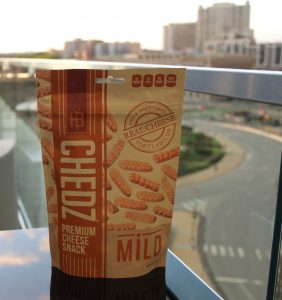 Wednesday, September 07, 2016:
I received my award in the mail today!  Thank you Comcast Business for our FIRST ever shiny (and pointy) award!