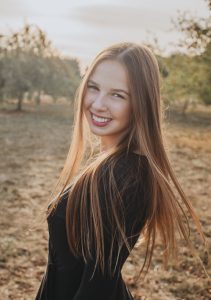 My new-found passion is to be a role model for young women, and to help encourage women entrepreneurs.  Meet Dasha, who is Hall Brands' first Marketing/Advertising Intern.  Dasha is a high school senior and college student.  Her hobbies include cinematography, photography, hiking, painting and designing clothes.
Dasha was born in Kazakhstan, a Central Asian country and former Soviet republic, in the year 2000.  At the age of one, her family moved to Kaliningrad, Russia.  In 2010, her family immigrated to the United States.  She has since worked hard to assimilate to the new country and learn English.
She is one of the most mature, motivated and hard-working young women I have met to date.  Dasha is working with Hall Brands to gain additional marketing and advertising skills to complete her senior project and to obtain additional college credits.
I look forward to mentoring Dasha through this internship.  Likewise, I will look forward to working with her for our marketing/advertising needs.  Upon graduating from high school, Dasha has plans to continue pursuing her college degree.  She plans to seek a career in marketing and advertising.