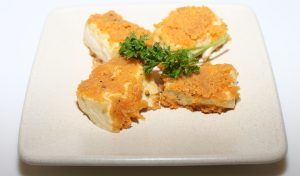 Preheat oven to 350 degrees.

Drain tofu and lightly blot with paper towel.

Cut tofu in squares and put in 8X8 greased baking dish.

Crush Chedz to crumbs consistency with a rolling pin or food processor.

Put Chedz crumbs in a bowl.

Add: Salt, Black Pepper and Italian Seasoning and mix.

Rub Chedz crumbs over tofu and on the sides. Use your fingers or utensil such as spoon.

Drizzle olive oil on top of Chedz tofu.

Bake for 40-50 minutes. Enjoy!