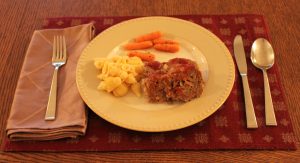 Preheat oven to 350 degrees F (175 degrees C).

Crumble Chedz into crumbs using a food processor or rolling pin.

Whisk eggs, milk, salt, and ground black pepper in a large bowl. Add Chedz crumbs and stir until combined.

Mix ground beef and chopped onions in the Chedz mixture and transfer mixture into a 9x5-inch loaf pan.

To make the sauce (optional): Combine brown sugar, ketchup, and mustard in a small bowl; spread over meat mixture.

Bake in the preheated oven until no longer pink in the center, 1 to 1 1/4 hours. A thermometer inserted into the center should read at least 160 degrees F (70 degrees C).